Social media isn't just a fad. It's a trending requirement for the long term success of any business or organization. In today's high-tech world, people yearn for the high-touch. Social media sites such as Facebook, Twitter, Pinterest and more deliver the human element to technology that was previously missing from the Internet's faceless abyss.
You may or may not be actively involved with Facebook and Twitter with a personal account, but either way, it's essential to participate in Social Media Marketing (SMM) as a business.
Word-of-mouth

advertising works, and social media is online word-of-mouth.

Additionally, social media marketing gives your business a personality and allows your customers to feel your company is part of their culture. It replaces the impersonal "big business, little consumer" feel with a "we care, and we're listening" climate.

As a customer and as a human being yourself, how many times have you been annoyed by automated phone menus in which you are forced to communicate with a computer via a series of prompts and button pushes? Even the voice recognition menus are cold and impersonal, boxing you into whatever options a machine gives you. Wouldn't you rather talk to a living, breathing person on the other end?

Social media goes a long way at bridging the gap between the efficiencies of automation and the benefits of interpersonal interaction in business.

Social media marketing gives your business a personality, engages people by sharing and responding to their inputs and wraps your business into your customers' culture while drawing your customers in to your own.
Our

social media marketing services include:
Marketing strategy development
Implementation
Management
Profiles creation
Content development
Social listening
When your business becomes
"social,"

your customers talk about you with others.

When they "like" or "share" something on Facebook, it has the ability to be seen by their entire network. You become a household name to your target audience, and that audience grows with increasing popularity.

Done properly and by following the written (and unwritten) rules of etiquette to share thoughts, information, insights, special offers, and so forth, social media marketing becomes an effective conduit to expand your sales by exposing a growing customer base to other useful links and sources that drive participation to your organization or sales to your business.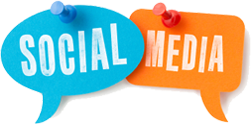 Through expert analysis and custom strategies, WebDrafter.com can help with your social media marketing goals.
Learn more about social media marketing by contacting WebDrafter.com today at 1-866-421-3723 or by Requesting a Free Quote.